How it All Started…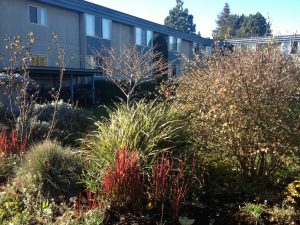 Mount Douglas Seniors Housing Society began as a response to a 1966 housing needs study. The Anglican Church Women (ACW) started a "Care of the Elderly" fund. The purchase of 4 acres of land in Gordon Head was made possible through legacies from several members of the ACW, including a sizeable legacy from the late Georgina Checkley. Construction of Mount Douglas Court began in 1970. The building was dedicated on June 12, 1971, by The Rt. Rev. G.R. Gartrell, Bishop, Diocese of British Columbia.
Since that time, MDSHS has provided quality affordable homes for adults 55 and better. We are grateful for the dedication and generous support of the ACW, who gave us our start. Today, we are a registered charity, owned and operated by MDSHS and fully independent of the church.
In 2023 we were voted the Best Retirement Community in Greater Victoria.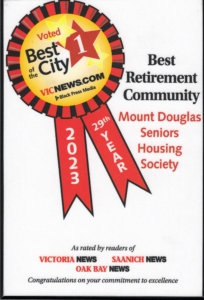 Our Board of Directors
As a non-profit organization, we are governed by a volunteer board of directors that oversee the strategic planning and financial management of Mount Douglas Seniors Housing Society.  We are grateful for their commitment to our mission and their invaluable contribution to our community.
If you are interested in joining our volunteer board, please click here for more information.
Our Staff
Our small, but dedicated team is committed to excellence in all we do. Our goal is to operate the building as though it were our home and to foster a caring community that nurtures and supports our tenants. For employment opportunities see careers